Back to top
"It made me fly" - How was EcoTrail Putrajaya?
Win, Shila & Renee took part at the 1st edition of the Ecotrail Putrajaya on last October 26th. They accepted to answer few questions to tell their adventure. 
Win ran the 50k, Shila & Renee the 80k. 
What did you choose to run the EcoTrail Putrajaya?
Win: "I participated in the EcoTrail in Oslo in May 2019 and really enjoyed it. I did not have any races planned for the last months of the year yet was properly trained. So, when I was browsing through the races in Malaysia in October/November and found the EcoTrail - just a few weeks before it was happening - I impulsively signed up for the 50km."
Renee: "I have been following some series of EcoTrail event few months back. I decided to choose to run my 1st EcoTrail in my own homeland. I love the Green Race Concept as part of taking well care of Mother Nature." 
Shila: "Out of curiosity.  I've ran many road and trails but not EcoTrail and was wondering what this run meant."
What's your best memory on the race?
Win: "I really did not feel well at the start and was not going well for the first 20 km at all - in fact, I was at the very back of the race. A while after the second water station I started to feel better, and we then entered the best-off road parts of the race - which is when I really came through. The second part of the race went relatively well, I kept going at roughly the same speed as in the beginning and even accelerated a little, which made me overtake many other participants to their big surprise (and mine). It made me fly..."
Renee: "Very great moment during the race as I have a friend as company to run for almost last 30-35km. We nailed to finishing line together and blessed we came in as 2nd & 3rd placing for 84km Women category. It was precious for me to finish with a dear friend." 
Shila: "Seeing the unseen different tracks and trails during the entire running course."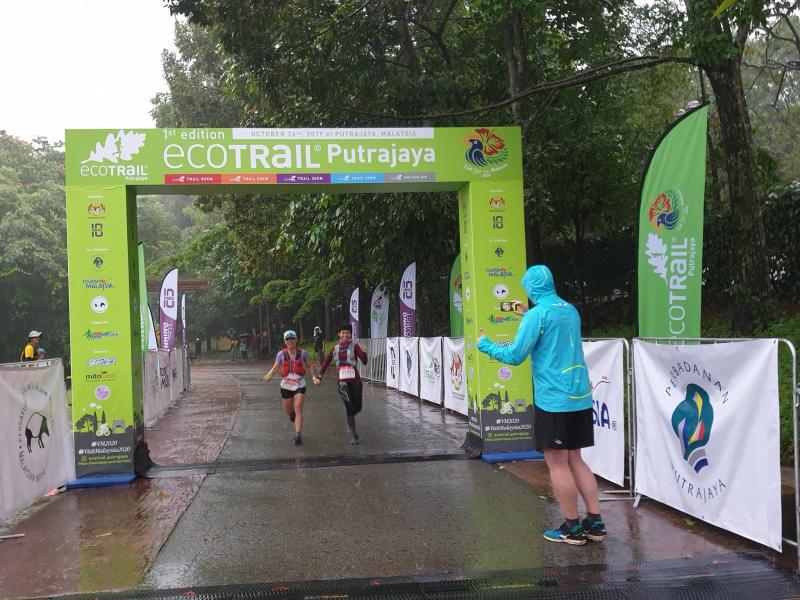 What's your preferred part of the course?
Win: "The best part, without any doubt, were the hilly, forested trails and the grassy area below the power lines, with great views. I just love technical trails, the more the better."
Shila: "The entire course actually because it gave you the experience of running in a trail and next, you're out on the road at some residential area and within minutes you're back into trail again."
Could you sum up your experience in one word?
Renee: "Challenging" 
Shila: "Breathe.  Reason: I can't believe that I can breathe fresh air and surrounded by nature in the hearts of Putrajaya."
Win: "It was great, and despite the bad start I was totally surprised with my eventual good result."
What's your next EcoTrail challenge?
Renee: "I wish to run EcoTrail in Portugal"